Volume 3
is the third novel of the
Shichisei no Subaru
series.
The truth of "that day" is finally revealed -!
Subaru's line, which repels the supreme guild "divine" and makes its fame more and more fascinating. I asked for a weapon that can endure the sense of Haruto Amō, and put a ship to the waters of the demon .... Waiting there was a clave of former colleagues, phantasmagoria. But shortly after reunion he will disappear.
Meanwhile, as a result of your investigation, your method reaches the name of the masterpiece that diffused the information of Asahi.
    - Ultimate Guild "Gnostic".

Haruto know that the situation is dangerous beyond imagination, to the huge organization of everything enveloped in a mystery. And what is the truth about Asahi finally spoken from the mouth of Elicia ...? Innovative youth youth online, the third volume of the surprising spot![1]
Characters
Edit
Illustrations
Edit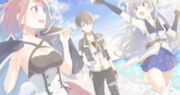 References
Edit