Volume 2
is the second novel of the
Shichisei no Subaru
series.
"I wish I had never had Asahi.
Haruto Amō and SUBARU who overthrew "innocent darkness" and revived incompletely. The report runs around "Reunion", finally two supergirl guilds, "Brill Society" and "Southern Cross" start to move. The "Illuminati" led by your method who knew about it also began to act, and the composition of the four major guilds and "Subaru", the four forces checking each other was getting ready.
Meanwhile, Takanori who cares about only Asahi when returning to reality, Satsuki remembers small irritation. In such a case, your law will appear and tell Satsuki. "Saki, I and you are supposed to be accomplices, mutual benefits should be consistent" ... Takanori wishing for Asahi and Satsuki wishing for Haruto. The complicity relation started from "that time" -.[1]
Characters
Edit
Illustrations
Edit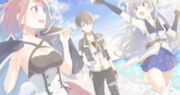 References
Edit